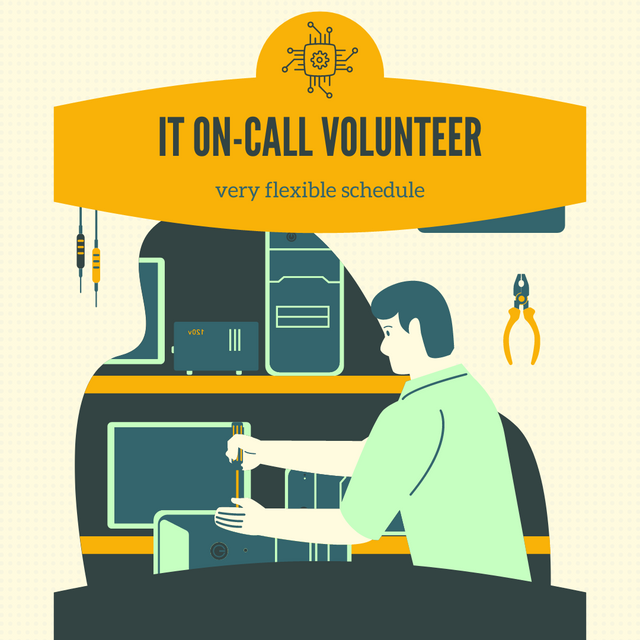 Are you a software engineer or IT professional at any level that feels underappreciated in their day job? Well, our collective of nonprofits have been storing up gratitude for someone with your expertise for years. We are looking for a volunteer that can help us overcome what are most likely basic technology challenges and put processes and best practices in place to hopefully prevent future technology roadblocks. (We already tried unplugging it and plugging it back in!) Please and thank you!
REPORTS TO:  Volunteer Coordinator and/or scheduled staff
AGE REQUIREMENTS:  Must be 16 years or older
TIME COMMITMENT: The IT On-Call Volunteer position is very flexible.  OFFICE LOCATION AND DETAILS:  233 SE Washington Street, Hillsboro Oregon 97007. Our office is called the Downtown Hive and is managed by the Hillsboro Downtown Partnership. It is a large building that houses the Hillsboro Downtown Partnership, Hillsboro Library Friends, Hillsboro Tuesday Night Market, Hillsboro Farmers Markets, Roland Salas Photography, and My Father. Communal meeting spaces may be used by other agencies outside of those listed above.
HDP VOLUNTEER PHILOSOPHY: Volunteers are the most essential component of HDP. With our limited budget for paid employees, there would be a threshold to the amount we could accomplish, but with volunteers there is no limit. This program attracts a diverse group of volunteers, matches them up with roles that fits their skills and interests best, and supports them throughout their service to HDP and our community.
POSITION SUMMARY: The IT On-Call Volunteer position is a support position for the ongoing maintenance and troubleshooting of various IT systems. Initially, HDP needs assistance with IT maintenance, systems set-up and troubleshooting. Once complete, this position will assist with process write-ups and best practices.
BENEFITS:   
Opportunities to build your resume and earn outstanding references including letters of recommendation
Opportunities to learn about the Hillsboro Cultural Arts District, Historic Downtown Hillsboro, Hillsboro's 10th Avenue developments, future paid position opportunities, programming and events.
Opportunities to work with staff who have years of experience working with small businesses and nonprofits that serve Downtown Hillsboro and beyond
Obtain experience interacting with Downtown Hillsboro patrons of all interest levels, backgrounds, ethnicities, ages and education levels, as a representative of the Hillsboro Downtown Partnership.
SUMMARY OF DUTIES (includes, but not limited to, the following): 
Basic computer maintenance to speed up efficiency.
Synchronization and set-up on various systems including apps on Android, Windows, Apple.
Hardware and software installation and support. 
Basic IT troubleshooting
Ability to write instructions clearly and concisely for staff.
Keep Downtown Hive staff informed of unusual situations, safety concerns, and other issues that may arise.
Record volunteer hours. 
Other related duties as assigned.
QUALIFICATIONS: 
Must be reliable, dependable, confident when speaking to strangers and able to adapt to changes in schedules and situations.
Must be able to use Microsoft Office suite and Google Workspace, work independently, and follow instructions.
Must possess good communication skills and be a team player.
EXPECTATIONS:
Attend all required trainings and meetings.
A willingness to learn about the Hillsboro Cultural Arts District, Historic Downtown Hillsboro, and Hillsboro's 10th Avenue developments.
Each volunteer is expected to perform tasks that are within their physical capability.
Each volunteer should understand that as a volunteer they are a representative of the Hillsboro Downtown Partnership and should act in a manner that promotes Downtown Hillsboro in a positive manner.
Each volunteer will receive evaluations from their supervisor, as needed. 
Each volunteer is expected to be timely and available to attend scheduled shifts. If a volunteer is unable to attend their scheduled shift, they need to contact their staff supervisor directly via phone. Do not text or email any schedule changes.
Each volunteer will receive ongoing feedback from their supervisor on how to improve their techniques. A formal evaluation may take place at the end of the volunteer commitment. 
BACKGROUND CHECK:  A background check is required for this position if the applicant is 18 years or older.
WORKING CONDITIONS:  Duties are performed in an indoor office setting. Sometimes the office is busy with people and movement and other times, it is quiet and slow. The flow of work and nature of duties involve mental and visual attention for much or all of the time. Manual dexterity and coordination are required, making up more than 50% of the work period. Position is typically exposed to fluorescent lights and the public. Position requires long periods of sitting; may also require standing and walking, repetitive foot, arm, shoulder, hand and back movements, crouching, bending, kneeling or reaching. If you have been advised to limit any of these movements, Hillsboro Downtown Partnership will happily modify your duties.
APPLICATION INFORMATION:  If you are interested in applying for this position, please contact [email protected] or call 503-640-6145.
Volunteer | Ongoing
The Downtown Hive
233 SE Washington St, Hillsboro, OR 97123