Downtown Sip & Shop
Stroll through Historic Downtown Hillsboro for a special evening of shopping and enjoy complimentary wine tastings from local area wineries.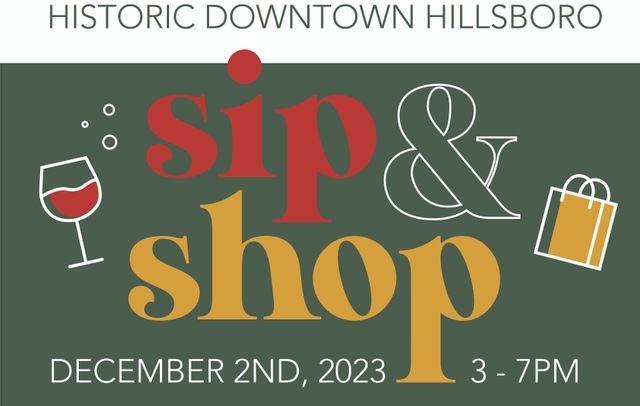 Description
Experience the vibrancy of Historic Downtown Hillsboro during the holidays. We have your passport to retail therapy at over a dozen merchants, to meet and greet up to 10 wineries and more perks in downtown as we launch the 3rd Annual Sip & Shop the first Saturday in December.
Sip & Shop Passports are on sale for $40 for two tickets!
Passport perks include10% off select retailers, restaurant promotions, 10 local wineries offering complimentary tastings and *passport may include shopping bag and logo wine glass while supply lasts.
The ticket sales are part of a fundraiser for Hillsboro Downtown Partnership.
The HDP mission is to cultivate and amplify a vibrant Downtown Hillsboro community.
They envision a thriving district of collaborative partners who embody community as an essential component of a vibrant and resilient Downtown Hillsboro, with HDP serving as the conduit for connections, engagement, and idea-realization.
How it the Sip & Shop Passport works: Purchase your ticket prior to 11/25 for $5 off.
You'll be directed to pick up your passport, wristband, bag and tasting glass at one of 3 locations on Main.
Visit the retailers and restaurants noted on the passport and collect stamps at a minimum of 7 shops. No purchase required. While we'd love your retail support, our intent is to introduce you to some of the key contributors who make and keep Historic Downtown great.
Drop your completed passport at any retail location. Completed passports will be collected and raffle held the following weekend. Baskets valued up to $60-$75
Passport Pick Up Locations:
Favi's Fabulous Cakes, 301 E. Main St.
Blue Ox Ax Throwing, 264 E. Main St.
Backwoods Brewing, Corner of 2nd & Main St.
Questions? Contact [email protected]
Downtown Hillsboro Main Street
150 East Main Street, Hillsboro, OR 97123
3:00 PM PST
to 7:00 PM PST
$40 Early Bird Pricing, $45 after 11/20
RSVP Required