IN THE NEWS: Climate activists rally in Downtown Hillsboro
in
Downtown Hillsboro in the News
,
civic center plaza
,
newsworthy
,
youth
---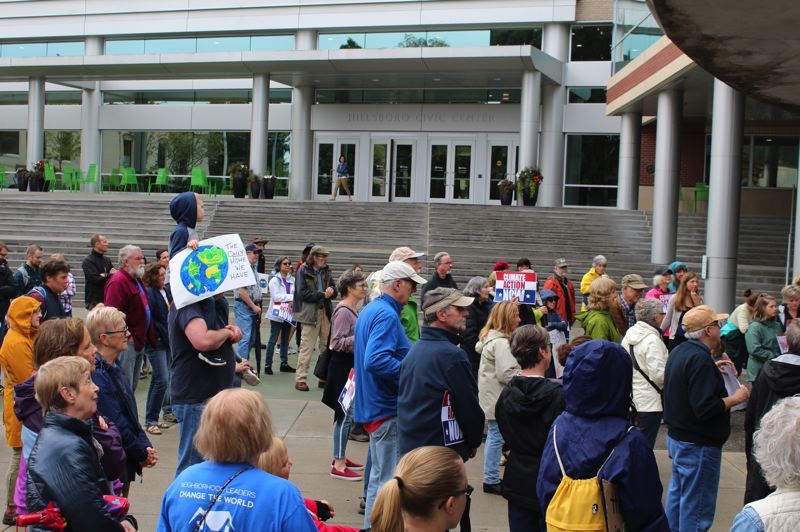 More than 100 people came out to the Tom Hughes Civic Center Plaza in downtown Hillsboro on Friday morning, Sept. 20, for a "Climate Strike" rally.More than 100 people came out to the Tom Hughes Civic Center Plaza in Downtown Hillsboro on Friday morning, Sept. 20, for a "Climate Strike" rally.
A call for action to prevent catastrophic climate change, the Climate Strike movement has gone worldwide on Friday — with an event in Downtown Hillsboro organized by the Washington County chapter of 350.org.
In contrast to a concurrent rally in downtown Portland that was joined by throngs of high school students, Hillsboro rally attendees were predominantly older, ranging from mothers and fathers with young children to retirees.
One of Sherry Reuter's children at the rally was in a stroller. Reuter said she came out to the rally because it's about the future of children like hers.
Angela Ritacca-Lovenguth echoed Reuter's thoughts.
"I have two kids," she said. "And I was so careful the whole time I was pregnant. … I did not do it so they could not grow up."
Attendees heard from several speakers, including organizer Debby Garman, Hillsboro Mayor Steve Callaway and Metro Councilor Juan Carlos Gonzalez.
"If the federal level is not going to act, we can act here locally," Gonzalez said, to applause. "We need a future that frees us from our addiction to fossil fuels. We need a future that secures clean air and clean water for future generations. And we need clean energy jobs that helps with a just transition for all working people (to have jobs) in this new economy."
Garman, Callaway and other speakers invoked the name of Greta Thunberg, a Swedish teenager who has become internationally famous for her climate activism. Thunberg testified at a congressional hearing on climate change earlier this week and led a Climate Strike protest in New York City Friday morning.
Like Thunberg, Callaway is a vegan. He encouraged attendees to follow Thunberg's lead in adopting a plant-based diet.
"That will do more to change our climate than any other action we can take," Callaway said.
Vegetarian and vegan diets are promoted by many environmentalists, in large part because factory farming is responsible for a significant portion of greenhouse gas emissions. Cattle produce large quantities of methane, a much more powerful greenhouse gas than carbon dioxide. In Brazil, widespread deforestation to make way for more farmland has set off alarm bells at the United Nations and among environmental officials around the world.
Other major sources of greenhouse gas emissions include motor vehicles, power generation and manufacturing.
Callaway said Hillsboro is a leader when it comes to renewable energy, and the city is also working to transition its government vehicles — including Hillsboro police cruisers — to more sustainable, eco-friendly electric hybrid models.
According to the U.S. Environmental Protection Agency, for several years running, Hillsboro has led the nation's cities in its annual usage of what's defined as "green power," which now makes up nearly two-thirds of the energy consumed in Hillsboro. The EPA's definition includes "low-impact" hydropower, along with wind, solar and biogas power, among others.
Climate Strike attendees in Hillsboro held signs with messages like "Climate Action Now," "Save the Future" and "System Change Not Climate Change."
"I feel like politically and business-wise, a lot of things need to change," Reuter remarked. "We're all here. We want to do something. But I feel like the biggest voices are the politicians and big businesses."
Several signs included pictures or drawings of Earth, a few of them clearly made by some of the small children whose parents took them to the Civic Center Plaza for Friday's rally. Next to one colored-marker Earth, held aloft by a small boy riding on a man's shoulders, there was the message "The Only Home We Have."
 "There's nowhere else to go, you know?" Ritacca-Lovenguth said.
See the original story by Mark Miller on Hillsboro NewsTimes.