Spring Window Takeover! You can see Amy's window at Rune and Board
in
Programs by HDP
,
Engagement Opportunities for Community Members
,
Support Local Opportunities
,
authentic
,
placemaking
,
springtime
,
windows
,
art
---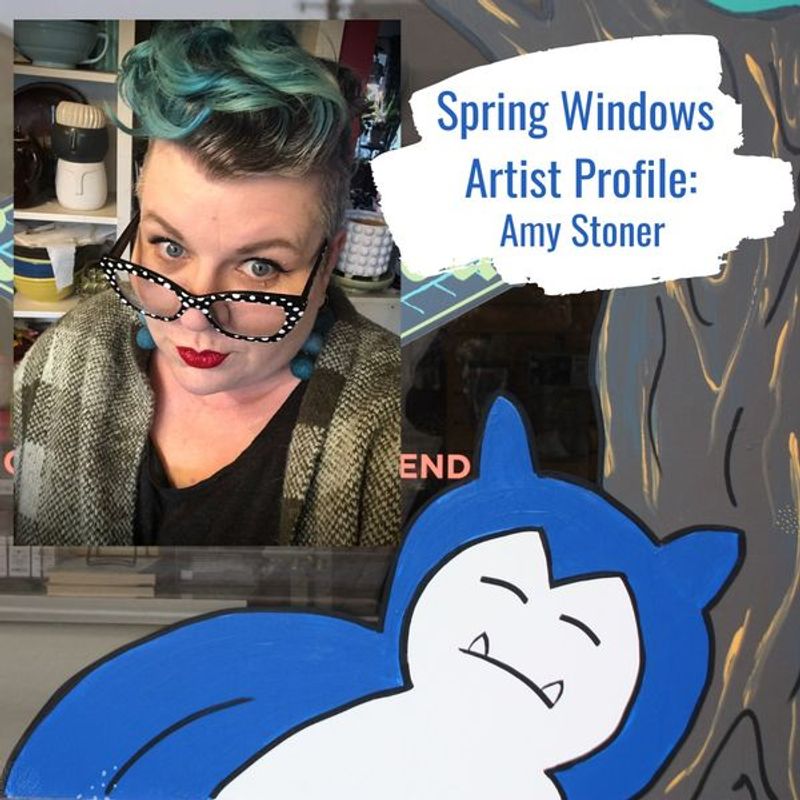 See more of her work on Facebook @AmyStonerFineArt

Q: What themes do you hope to convey through your Window Art installation?
A: I wanted to celebrate Spring, renewal and fun/playtime while also keeping true to the business where I was painting, so it was kept in the theme of playtime while utilizing themes /games synonymous with the business of gaming and play.
Q: How would you describe your art style?
A: Colorful and graphic
Q: How did you first get into art?
A: I come from a creative family where we were always making something. My dad is a woodworker and my mother loved to draw, quilt and garden. It was natural that I would find my own creative niche.
Q: Where do you draw inspiration from?
A: I draw a lot of inspiration from nature that I then play around with to create a more stylized approach to it.
Q: What medium of art are you most drawn to or comfortable with?
A: I love painting and printmaking
Q: What do you love about Downtown Hillsboro?
A: I love the small town feel in a large metropolitan area, and the many small independent businesses that make a supportive and diverse community.
Q: What strategies do you use to rebound after hardship?
A: I try to force myself to take a break and just be. Take stock of the good things and what my goals are. I try to find a little bit of joy in the mundane and build up from there.
Q: What is your favorite part of Spring?
A: Trilliums blooming in the woods and the pale green of trees just budding out.
You can see the rest of the windows on display through June.
Thank you to Hillsboro Arts and Culture for supporting this project!