---
Look what popped up on 2nd Avenue between Washington and Main Streets. It's one of the future residents of the old US Bank building at 2nd and Main. That building is currently be remodeled and updated to hold four restaurants sometime in 2023, but one of those restaurants just couldn't wait to join the Hillsboro business community.
Ex Novo Brewing has opened a pop-up beer garden for the season in the parking lot south of the building. You'll see the cyclone fence contains their food cart and a beer trailer surrounded by picnic tables and potted Doug-fir trees. There is plenty of space for hanging out with friends or family, and even cornhole if you want to play a few rounds with your companions.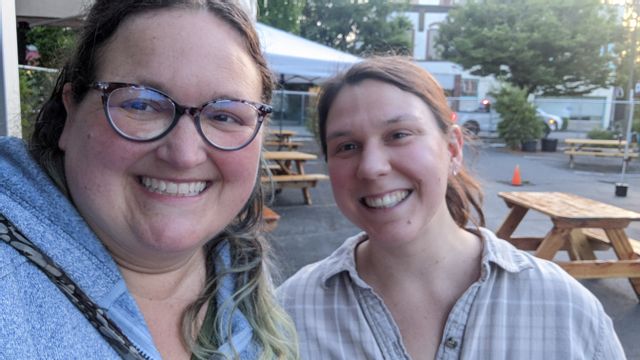 The staff from there other locations in Portland and Beaverton have been setting up the pop-up, while they are hiring new staff that will grow with the Hillsboro location and get to know the locals before the restaurant is even open. I was excited to meet Hanna, only to realize I knew her from when she was child growing up next door to my in-laws! Small world! 
They are open Tuesday, Thursday, Friday, and Saturday afternoons and evenings. Follow them on socials for hour adjustments and other announcements. Kids and well-behaved dogs are welcome in the pop-up.