$20 in Downtown Hillsboro
---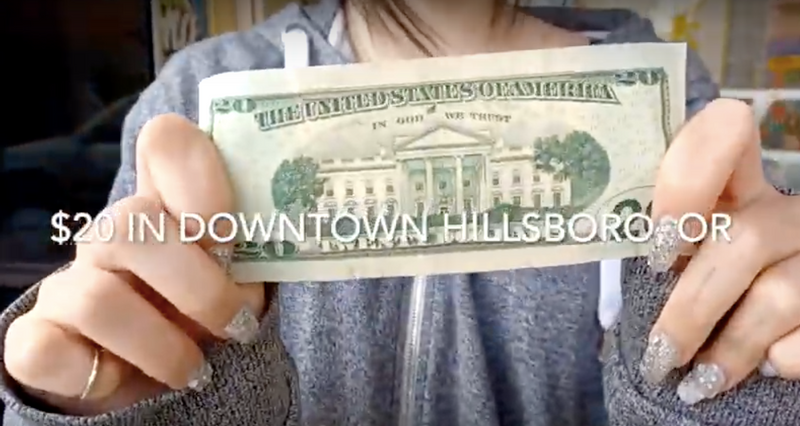 Peighton and Chelsea are best friends from Oak Street Campus High School in Downtown Hillsboro. Once a week during spring semester of 2022, they met with Outreach Coordinator Sophie Contreras for their internship through Hillsboro School District's Big Picture Program. Big Picture supports student through advisory, exhibitions, internships and projects and Hillsboro Downtown Partnership was very lucky to have 2 wonderful students sent our way.

At first, Chelsea and Peighton were working with 2 different HDP staff mentors until we realized both young women had similar goals for the project: social media's influence on teens using video. The 2 teams quickly combined. Once a week for the spring semester, the team walked downtown with a camera phone and umbrella in tow to work on the project. Shop keepers were happy to assist students as they discussed what teens at their school may be interested in buying, how to do a shot, lighting and more. In the end, Chelsea and Peighton's theme was "Downtown Hillsboro, Oregon belongs to everyone, including teens on a budget." They had full ownership for the film's theme, design, actors, editing and music selection.
When asked, the students said they plan on adding this project to college applications and professional resumes. We are very proud of the work they accomplished with Hillsboro Downtown Partnership.
Please watch their work here: https://youtu.be/G0iO_yPpB-4

Hillsboro Downtown Partnership: https://www.downtownhillsboro.org/ Hillsboro Big Picture: https://www.hsd.k12.or.us/domain/466