INVITATION TO PARTICIPATE: Hillsboro Holly Days Celebration
---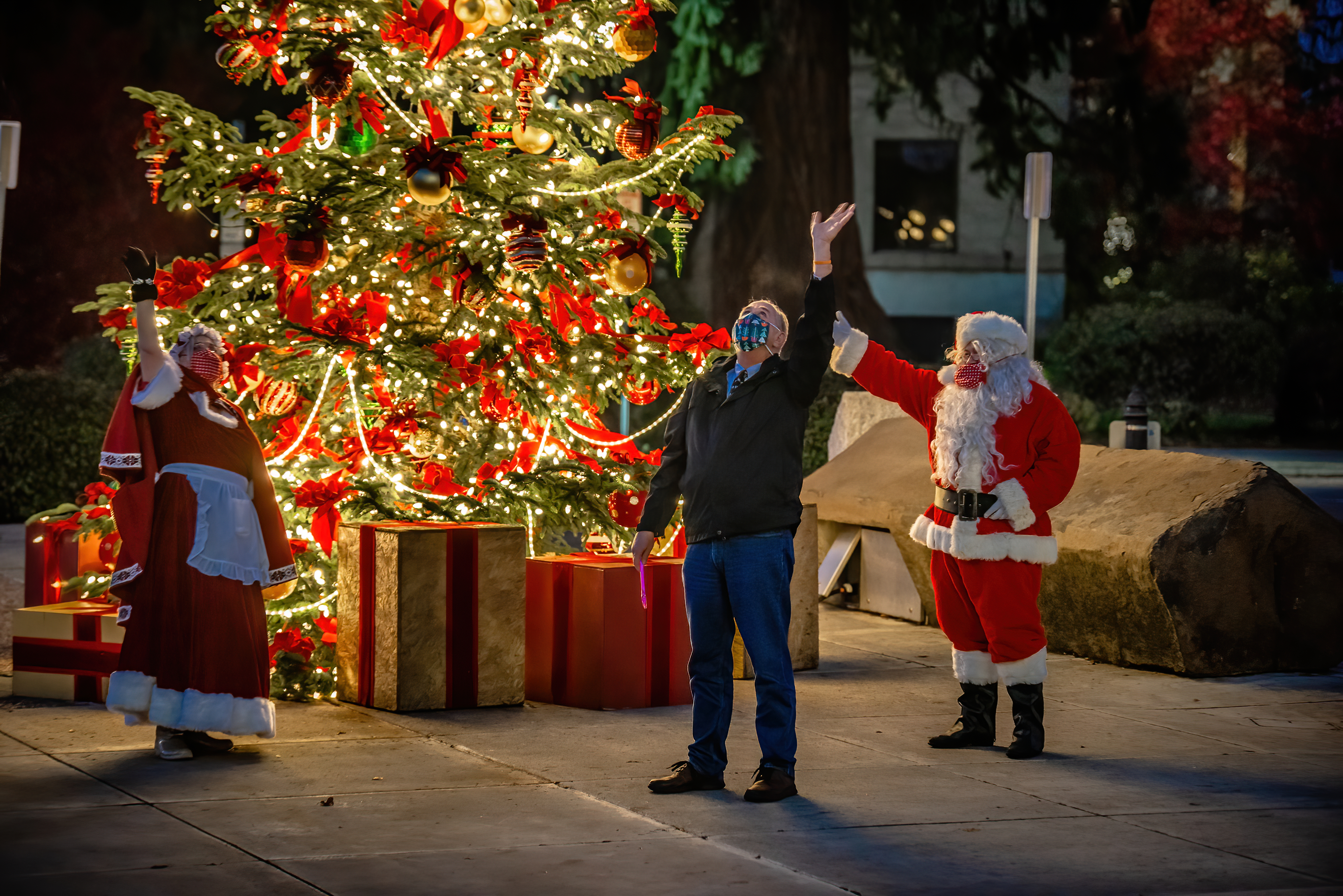 WHAT: Celebrate the holiday season at the annual Hillsboro Holly Days Celebration with the tree lighting, artisan fair, family village, and entertainment stage in Historic Downtown Hillsboro. Artisans showcase their best handmade work at this bustling market, while carolers, live entertainment, and activities for all ages abound. Downtown merchants will also be open for business with a variety of in-shop activities and promotions. The Civic Center Plaza and the surrounding blocks will be full of holiday cheer and excitement leading up to the awe-inspiring tree lighting at 6:00 pm.
WHEN: Saturday, November 19 from 2:00-7:00 pm. Street closure from approximately noon-9:30 pm

WHY: Tradition and holidays go hand-in-hand, so this event was created to offer a tradition that brought our community together around Downtown. HDP is the lead coordinator, because we feel it is important to focus equally on the local artisan vendors and Downtown retailers during this holiday shopping season.

WHO IT'S BY: The event is being coordinated by Hillsboro Downtown Partnership in partnership with Hillsboro Tuesday Night Market, the City of Hillsboro, and Evergreen Christian Center.

WHO IT'S FOR: This is a family-friendly, all-age event for local folks from Hillsboro and the surrounding communities. Some people just come to shop, some to experience community, but most come for a little of both.
WHERE IT'S HAPPENING: The Celebration is built out around the live performance and tree lighting in the Civic Center Plaza, with activities planned around the plaza, and vendors setup on E Main Street, between 1st and 2nd Avenues, on SE 2nd Avenue between Washington and Main. But we consider all of Historic Downtown part of the event!
HOW YOU CAN PARTICIPATE:
Stay open until 7:00 pm. This event is very finicky, because of the weather. If it's raining, there will be less people, but they will want to spend a significant amount of their time indoors shopping in the stores. We have also noticed a trend that many people want to linger after the tree lighting to actually do their shopping, so we really encourage you to plan to stay open until at least 7:00 pm, and if possible be prepared to stay open later if people are still shopping. 
Run a special or an activity in your business. Are you having a sale for the day, hosting a demo/maker, or organizing an activity for children? Please let us know so we can tell people about it. If you are a restaurant, considering offer a Holly Days drink or an abbreviated menu - something that allows you to handle crowd flow. 
Advertise with social media and your website. Use the images provided on the event website to cross promote the event with what you have planned in your business.  "Stop in before the tree lighting at 6:00 pm to see our new line of widgets."
Participate in window selfie stations. We are looking for a few businesses to partner with us on a selfie window. This will bring shoppers to your door or window for a photo opportunity.
Share what your business is doing with HDP. Keep us informed on any Holly Days special hours, offers, or activities on your social media platforms. Add #downtownhillsboro #hillsborohollydays to your Twitter and Instagram posts.
Welcome roving entertainers into your business: We are working to invite a variety of roving entertainers to the event. They will have been instructed to check in at the Holly Days information booth. When they arrive at your business, they have been instructed to check in with whoever is at the counter to ask if it's a good time, where to situate themselves, and whether or not you are okay with them collecting tips. They will be wearing a button that says "Downtown Star" on it.
WHAT YOU CAN EXPECT FROM HILLSBORO DOWNTOWN PARTNERSHIP:
Promotion of the event with signage, posters, social media.

A

webpage

with details about the event.

Coordination of street closure with our partner, Tuesday Night Market.
Got questions? Need more information? Please contact Organizational Coordinator Jolene Wilson [email protected]   
FREQUENTLY ASKED QUESTIONS:
Q: How many people come to this event?
A: The attendance at the tree lighting was 9,000 in 2019 and we anticipate 6,000-10,000 for 2022.  This number obviously may be significantly lower if the weather is less than ideal.
Q: Will the streets be closed?
A: We will be closing E Main Street between 1st and 2nd Avenue, and SE 2nd Avenue from Washington to Main to accommodate the artisan fair and activities. The barricades will go up at noon as we work to clear all the remaining vehicles from the footprint. The alley on 2nd heading into the parking lot will also be closed. Holly Days is using the same footprint as the fall Farmers' Market, the shoulder version. We anticipate the streets reopening by 9:30 pm. 
Q: Why so early? Why not wait until after Thanksgiving?
A: Since 2020, we have been holding this event the Saturday before Thanksgiving to launch the shopping season for our Downtown locally owned small businesses, because there is so much emphasis to start shopping the day after Thanksgiving or earlier. This event is more than just about Christmas, it's about the coming together or our community members to honor the many holidays and seasonal traditions celebrated among our diverse Hillsboro population.
Q: What if we are scheduled to close before 7:00 pm?
A: We ask that you try to stay open a little later for this night. We have yet to hear a business regret staying open later during this event.
Q: How may my business be impacted, whether positively and negatively?
A: Many stores report this as a good sales day and that it's a good day for new customers to discover your business. Expect your business to empty out during the tree lighting at 6 pm, but they will be back.
Q: What if restrooms are needed by participants?
A: The restrooms at the Civic Center Plaza will be open throughout the event. We hope that you can make an exception to your normal policy and let people use your business one if there is an urgent need. 
Q: What if there is an emergency during the event?
A: Please call 911 and report the emergency immediately. The police officers on duty that night will be briefed on the fact that an event is going on and be able to support other responders in getting to the incident. After first responders are on the way, please communicate the incident by texting or calling the HDP main line and leaving a message – 503-640-6145.