2022 Hillsboro Holly Days Celebration
---
The annual Hillsboro Holly Days Celebration happened on Saturday November 19, 2022 from 2:00 to 7:00pm in Historic Downtown Hillsboro. Every year, the event celebrates the Christmas spirit, embraces community, and gives guests the chance to get a head start on holiday shopping. We were incredibly lucky this year because there wasn't a cloud in the sky as we worked with many amazing partners, were gifted a beautiful tree, and the event itself was very well attended. What more could we ask for from our vibrant Hillsboro community? 
The Hillsboro Downtown Partnership team worked tirelessly with staff and volunteers from the City of Hillsboro, Hillsboro Tuesday Night Market, and Evergreen Christian Center to develop a family event that served everyone. For those looking to get ahead on their holiday shopping, guests found special deals at Downtown businesses and strolled among more than 70 vendors throughout the event. Dinner was served from both brick and mortar businesses and food carts found in front of the Civic Center Plaza. Those with a sweet tooth wandered down Dessert Alley to find specialty pies, cookies, and sweets of all kinds. To say the least, the event was delicious. Big thanks to the Hillsboro Tuesday Night Market team for coordinating the food and vendors!
Another big thanks goes to Evergreen Christian Center for organizing the Kid Village! There were a dozen tents full of great activities to involve kids of all ages and abilities. At the base of the Hillsboro's Holiday Tree in the Civic Center Plaza, families found a plethora of great ways to get their little ones involved. From games and crafts to touch tables and fun giveaways, families really enjoyed their time this year. If guests were looking for activities beyond kid village, it was not difficult to find more great ways to enjoy Holly Days. Did you pet the llamas? Did you get your photo taken with Santa? Did you write a letter to Santa? Did you enter the ugly sweater raffle? Did you take a selfie in front of the window murals down Main Street? So much to see and do!
The Cultural Arts District Stage was packed with wonderful entertainment. Choirs soothed the soul with beloved songs and sweet melodies. Live bands had the crows dancing and smiling to familiar tunes. Canto Popular played mariachi music and donned traditional mariachi attire. Laura Canudard played jazz to get us all into the holiday spirit. Thank you to everyone who performed and enjoyed the wonderful music!
Santa and Mrs. Claus arrived with their elves in style in a classic red Bronco and walked down Main Street, waving and welcoming everyone to the event. Hillsboro City Counselor Beach Pace and family took to the stage right before 6:00 pm to thank everyone for joining us to celebrate and reminded us all to reach out to those in need this season. A crowd of thousands helped countdown to 6:00 pm illuminated the beautiful holiday tree right as snow flurries filled the air. If you didn't feel the holiday spirit before that moment, there was no ignoring it then with all the joy and laughter in the air. Huge thanks to LL Stub Stewart State Park for donating the 30' tall Douglas Fir tree. They are in the midst of a forest thinning operation and rather than processing every tree, Oregon State Parks donated this tree to the Hillsboro Community.

The annual Hillsboro Holly Days Celebration was a wonderful event full of holiday cheer, shopping opportunities, family activities, food, and so much more. Hillsboro Downtown Partnership would like to thank the City of Hillsboro, Hillsboro Tuesday Night Market, Evergreen Christian Center, and all of our fabulous volunteers. Most of all, we would like to thank the Downtown Hillsboro community and beyond for supporting community events and sharing the holiday spirit.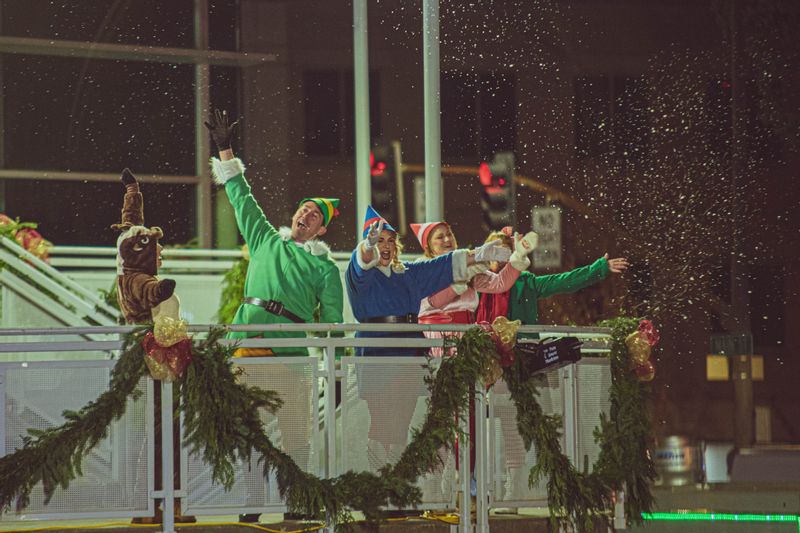 Click an image below to display the larger version.