Downtown Hillsboro Idea Palooza 2023
Day 1 of 7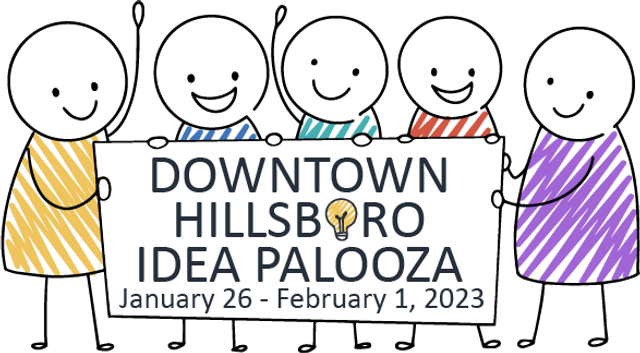 Description
You may know it by many names -  brainstorming, deliberating, analyzing, conceiving, conceptualizing, creating, inventing - but whatever you call it, please come do it with us! We are looking for new ideas for Downtown Hillsboro to help us keep adapting to the "new normal". And we are pretty sure that you have some ideas to share. 
The Downtown Hive will be set up with all sorts of prompts and ideas that we hope will generate even more ideas! It's an IDEA PALOOZA!
Allow yourself at least a half hour to peruse the displays and share your ideas. When you arrive, please check in at the welcome desk, review the rules of the game, and check out any "Idea Pack". Then go...go share ideas for Downtown!
Hillsboro Downtown Partnership
233 SE Washington Street, Hillsboro, OR 97123
10:00 AM PST
to 6:00 PM PST
Private:No
RSVP Required:No
Accept Registration Online:No