Contribute to our community science tree inventory data, right from your phone!
---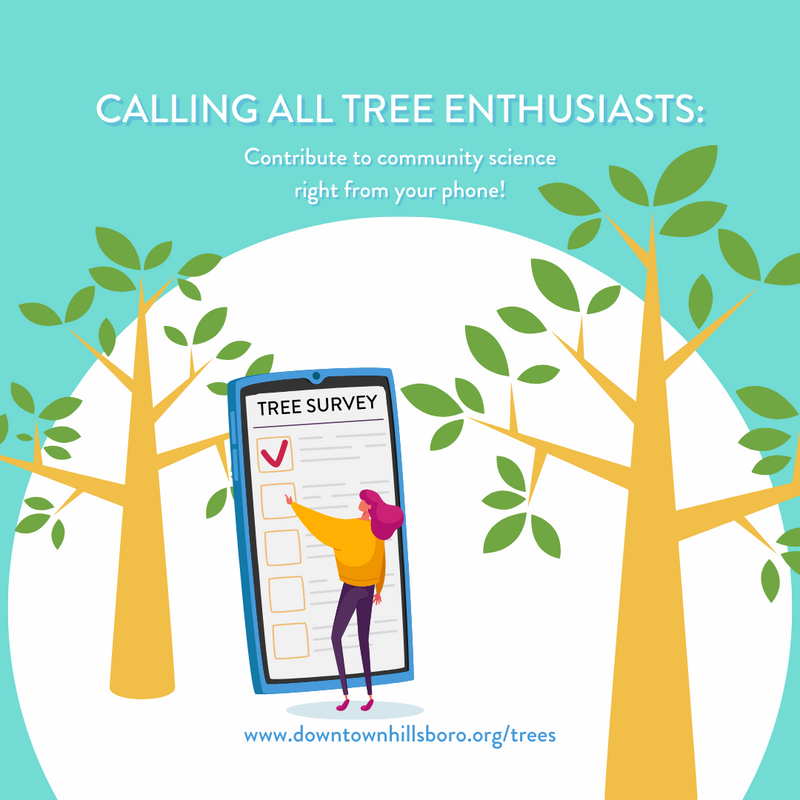 Pacific University student and HDP intern Emily Kresin has developed an exciting new way to inventory one of the most important urban resources we have- trees! It all began when we found that Hillsboro's tree inventory had not been updated since 2009. As a cultural nonprofit staffed by nature lovers and tree enthusiasts, we recognized the value in having an up-to-date tree inventory that we can use to make informed decisions about replacing street trees and making assessments on our Downtown's canopy cover and subsequent health equity.
This is where you come in! After developing a GIS survey that you can do right from your smartphone, we are ready for our neighbors and fellow tree lovers to contribute to our data. The process is easy, and the form will walk you through each step. We are asking folks to contribute as much data as they are able. You can expect questions about tree height, DBH, species, and details about the tree well including lifted or cracked sidewalks or needed maintenance. You can include as much or as little data as you are able to gather.
This is a great opportunity to learn about science at any age, and we encourage you to bring the kids in your life to learn about the importance of trees and how they are measured and assessed in the field. You can participate at any time, for as long as you want, beginning in your own neighborhood or venturing out into a new part of town.
To read more about the project, check out our page all about the project, or if you're ready to dive in, access the survey here! Make sure your location services are on while entering trees to get the most accurate results.