Get your headshot for $45 at The Downtown Hive on December 6 and 7!
---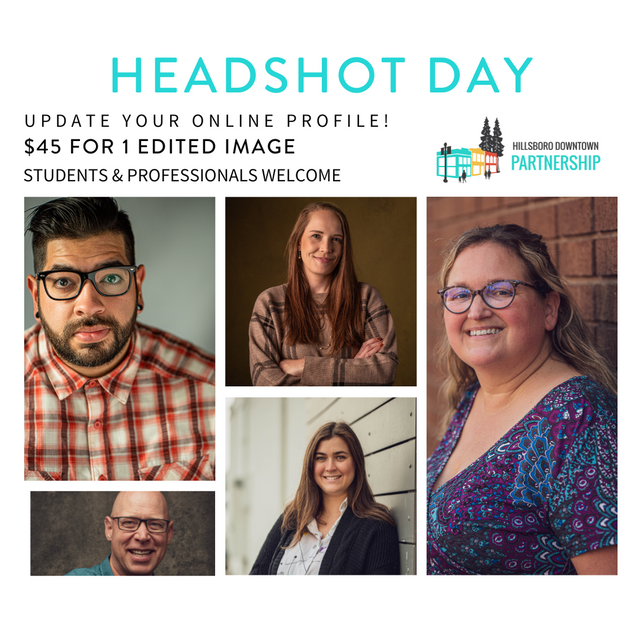 Help us help you update that LinkedIn profile picture!
Professional headshots can average about $150-$400 for an hour long session, but the price can go as high as $4,500 (yes, really!) The thing is, headshots can really elevate your profile when searching for jobs, or help your customers to connect with you as a small business owner.
We think that headshots should be more accessible for small business owners, students, nonprofit leaders, and community members who want to up their game but can't afford the price tag. That's why HDP will be hosting Headshot Day, an opportunity for local professionals and students to get an inexpensive headshot and fundraiser for our organization.
Why is a headshot important?
You might have a vague idea of why headshots will help you professionally, but if you're still unsure of just how important they are, let us list the reasons:
Creating a professional image: As a business professional, your image is a reflection of your business. A high-quality headshot portrays you as a leader who takes their business seriously. It helps to create a positive impression and makes potential clients more likely to trust you and your brand.
Building brand recognition: Consistency is essential when it comes to building brand recognition. By using the same headshot across all your online and offline marketing materials, you create a consistent and recognizable brand image.
Establishing credibility: A top-notch headshot can help establish your credibility as a professional. It shows that you are committed to your business and that you take your role as a leader seriously.
Engaging with your audience: People are more likely to engage with and remember a business if they can put a face to the name. A professional headshot helps you connect with your audience on a more personal level, making it easier to build lasting relationships with customers.
Standing out from the competition: In a crowded marketplace, a professional headshot can help you stand out from the competition. It shows that you are invested in your business and that you are willing to go the extra mile to present yourself and your brand in the best possible light.
How you can take advantage of Headshot Day
We will be offering headshot photo sessions over two days. There will be portrait sessions on December 6 and December 7 from 9:00am-2:00pm. Each session will last about 15 minutes and photographer Roland Salas will guide you on how to pose and get your best angles.
There will be no drop-in appointments, so make sure to sign up ahead of time by clicking this link and setting up your appointment.