TVC's Networking Event at Friday Night Bites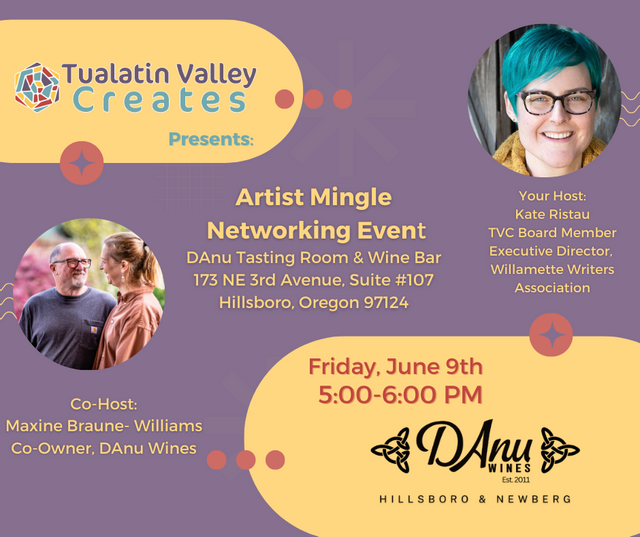 Description
Host: Kate Ristau/TVC Board Member and Executive Director, Willamette Writers Association and Co-host Maxine Williams, DAnu Tasting Room and Wine Bar.
Tualatin Valley Creates (TVC) offers monthly networking events designed to be a casual way for creatives to connect. In April, May and June, we are teaming up with Maxine Williams from DAnu Tasting Room and Wine Bar in Hillsboro. Maxine will share the history of DAnu Wines and the benefits of being a TVC ArtPass business partner.
Participate in conversations with other local creatives and learn about the new programs and opportunities for artists of all modalities and businesses in Washington County.
Also, learn about the ArtPass program businesses, ranging from theaters, galleries, retailers, restaurants, and independent artists who are committed to supporting Washington County's creative community. A complete list of partnering businesses can be found in the ArtPass Directory.
Each networking event begins with an opportunity to introduce yourself and your creative background. Next, we will learn about local opportunities shared by our host and co-host. You'll have a chance to meet local peers in your discipline to exchange ideas, ask questions, and build connections.
Registration for TVC Networking Events can be found online at www.tvcreates.org/networking.
Tickets: https://www.eventbrite.com/e/tualatin-valley-creates-networking-event-june-9th-registration-634917745067.
Northeast 3rd Avenue, Hillsboro
173 Northeast 3rd Avenue, Hillsboro, OR 97124
5:00 PM PDT
to 6:00 PM PDT
Private:No
RSVP Required:No
Accept Registration Online:No
Originally posted by Tualatin Valley Creates via Locable