IN THE NEWS: Hillsboro holds 'wishing tree' ceremony to show all are welcome
---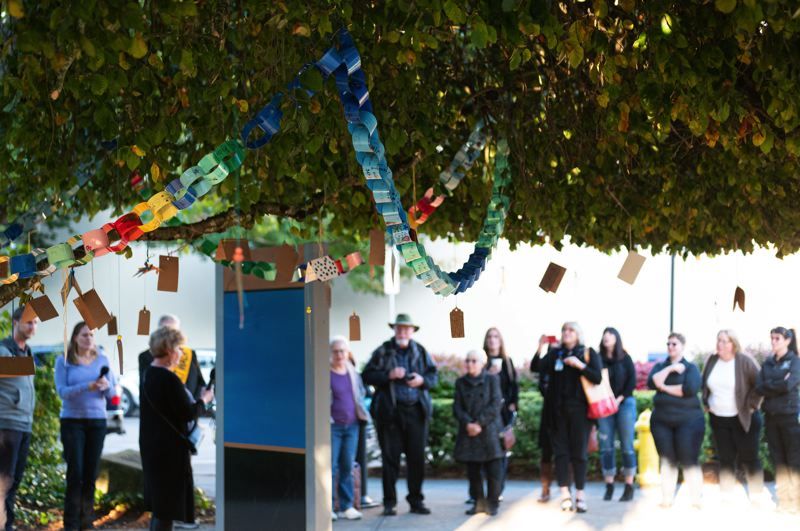 With the evening sunlight dappled by the weeping elm tree outside the Washington County Courthouse on Tuesday, Oct. 1, about 30 children, business owners and educators gathered for a ceremony to show all people are welcome in Hillsboro.
The neighborhood group Hillsboro Downtown Together organized the Wishing Tree Initiative to kick-off Hillsboro Arts Month.
This month, people can handwrite wishes onto tags that organizers will tie to the elm tree, which is now Hillsboro's "wishing tree." Tags and instructions in English and Spanish are next to the tree. Downtown businesses are also holding tag decorating events throughout October.
Initiative lead Kipperlyn Sinclair said wishing trees are used around the world to show community cohesion and give people the opportunity to participate in public art.
She said an increase in anti-immigrant language nationwide motivated her and other community members to organize the event. They chose the tree because of its proximity to the courthouse, where she said immigrants can be intimidated.
"A lot of families get deterred from coming down here, so we thought how can we gently create something where all the community knows they're welcome here," Sinclair said.
Across the street, signs saying, "Be nice, No ICE," referring to the federal agency Immigration and Customs Enforcement, hung in the second-floor windows of a building.
"When you display something, it's more than words, it's your actions," Sinclair said. "You're affirming a sense of belonging."

The elm tree has lights wrapped around its trunk. Colorful chains of wishes made by Lincoln Street Elementary School students already hang from the tree. Individual tags have wishes as broad as "everyone gets along" to more pointed hopes such as "bilingual signs downtown."
Jackson Elementary School third and fourth-grade teacher Julie McClain came to the event Tuesday with a bag of wish chains ready to be hung up. Coincidentally, McClain's class has been reading a book called "Wishtree," which is told from the perspective of a wishing tree. She said she was excited to hear about the downtown event.

"The connection just ties into so much of what we're learning about in class," McClain said. "About celebrating all of our cultures and coming together in that celebration with love and understanding and hope."
McClain and Glencoe High School principal Claudia Ruf said it's important to have difficult conversations about what makes people feel unwelcome at all grade levels.
"Kids throw out words that are hurtful," Ruf said. "Talking to kids about why they chose that word or what about another word that would fit better for the situation, and then having those healing conversations with kids."
Lincoln Street Elementary School principal Carmen Brodniak spoke at the ceremony in English and Spanish about giving the next generation an opportunity to build a strong community.
"We have so many students who may not have a voice, so many families who may not have a voice otherwise," Brodniak said. "We're teaching them to work together."
She teared up when thanking the community for giving her the opportunity to give back.
"I am a true testament to how the community supported me to be what I am. It is thanks to my own community that I am here today."
See the original story by Max Egener on Hillsboro NewsTimes.