---
We met many of our neighbors and made new friends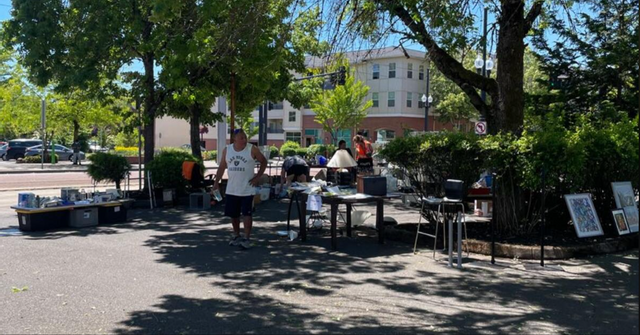 The intention of the rummage sale was to be a fundraiser for Hillsboro Downtown Partnership (HDP) and to share the message about The Downtown Hive, our new facility. Our Director EJ coined it a 'Friend-raiser' because we did do that for sure! 
. 
Our rummage sale was a 1 day event that involved weeks of preparation.
We partnered with our local Buy Nothing Group to collect donations in addition to our Hillsboro Downtown Partnership call out for action (donations). We had so much to sell it was amazing! The sale overlapped with the Downtown Hillsboro Farmers' Market and their 60th Anniversary Celebration. Many of our shoppers were attending both events.  
The weather was rough on our staff but the community really pulled through and helped us out. We had a small team of volunteers as well who really came through to support the rummage sale. It was truly amazing to see the community come out and support our efforts and mission to Hillsboro Downtown. 
We went into details on why you should shop a rummage sale
here
.
We raised over $500 in this fundraiser
The funds will be used to help with building improvements and ongoing maintenance. Our new facility for The Downtown Hive is home to several non-profits. Hillsboro Downtown Partnership is very grateful for everyone who participated in the event, especially the staff. We were not expecting much of a result due to the weather but the community came out and supported us. Every dollar made counts and we are very happy with the results.