IN THE NEWS: Noble Hop expands craft beer scene in Downtown Hillsboro
---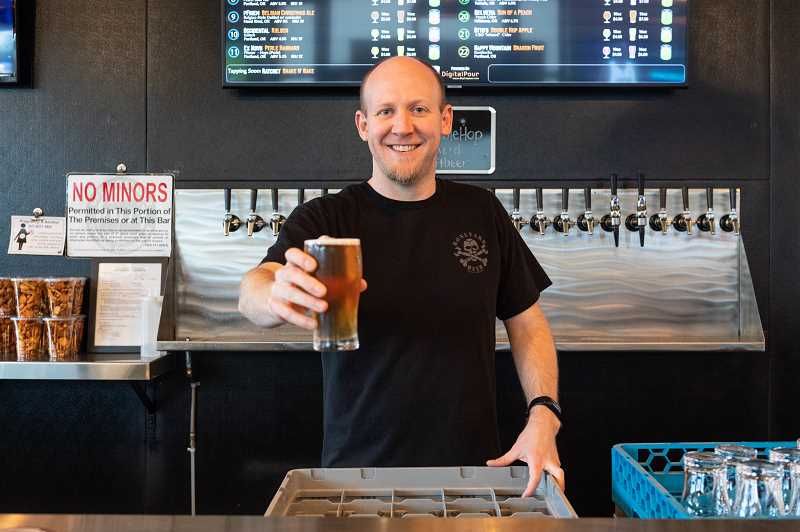 When McNally's Taproom closed its doors last summer in downtown Hillsboro, Mike Soto and Neal Glaske saw a space with great potential.
"It was more nonchalant than anything," said Soto about his initial discussions on starting a taproom in the vacant building at 370 E. Main St.
What was a laid-back conversation at the start of summer, however, turned into a full-scale project by summer's end.
Soto, who in his 24-year career as a restaurant manager oversaw the opening of 22 restaurants, had the experience if he and Glaske were to open a taproom and restaurant of their own.
With a majority of his career spent in opening commercial restaurants, five years ago Soto got a taste of what it was like to open his own place when he launched Pizzario, at 337 E. Main St. in Hillsboro, not too far from the former McNally's.
At Pizzario, Soto first met Glaske, who was working as a representative at Point Blank Distributing, a craft beer distributor. Every week, Glaske came in to complete Pizzario's beer orders and chat with Soto.
Glaske, a Hillsboro native and graduate of Century High School, brings his expertise to their partnership as a certified beer server.
"It's sort of like a wine sommelier, but for beer" Soto said. "They understand the process, the quality of the beer and different hops."
Due to Pizzario's proximity to the former McNally's, each week both Soto and Glaske saw that the For Sale sign continued to hang in the building's window.
"After about a month, we decided to get a bit more serious and sit down and talk about the potential of us partnering in business," Soto said.
Late last summer, the two made the decision to combine their respective areas of expertise in restaurant management and beer to open their own taproom called Noble Hop Bierhaus. 
"Our goal was not to have just any old beer you could find in the store, we wanted to get some of the true craft beers mostly in the Pacific Northwest," Soto said.
Although the two pursued acquiring the building in late summer, Soto and Glaske didn't receive the keys until Dec. 1. During the months in between they developed their plan and fine-tuned the details.

"We didn't waste a lot of time," Soto said.

Because of their meticulous planning and the fact that the location previously was a taproom and had all the necessary equipment, it was just three days after getting the keys that Noble Hop Bierhaus opened its doors to the public.

When Noble Hop opened Dec. 4, kegs were at the ready so customers could walk in and order a pint from one of Noble Hop's 22 taps.

With its high ceilings and exposed pipes, Noble Hop's industrial feel was made to feel homier by installing several televisions so customers could watch local, national and international sporting events.

The space also boasts a large patio that Soto and Glaske hope to see filled in the summer months, with people sipping beer as they listen to live music.

Noble Hop offers a minimal menu with handmade pretzels and other light bar fare. In addition, it also offers customers Pizzario's full menu from Soto's neighboring restaurant. Unlike most taprooms, customers are welcome to bring food from outside the bar into Noble Hop.

When conceptualizing Noble Hop Bierhaus, Soto and Glaske also spent time considering the surrounding community.

"We didn't want a beer house that was just 21 and over," said Soto on why they decided to allow minors in the building until 9 pm. "We wanted to make sure families could come also."

Customers also can refill personal growlers or buy canned beer to take home.

For those less into beer, Noble Hop also offers wine and nonalcoholic beverages like kombucha and CBD drinks.

With two months of service on Feb. 4, Soto already feels Noble Hop is doing well. "The vibe and energy that Neal and I brought in here is very strong, and the community embraced it right away."

In the future, Soto and Glaske want to establish a regular trivia night, host special events for Oktoberfest and St. Patrick's Day and expand their hours to have a regular lunch menu.

Noble Hop Bierhaus will celebrate its official grand opening from 11 a.m. to 11 p.m. Saturday, Feb. 8, at 370 E. Main St. Visitors can look forward to food pods parked across the street, prize giveaways and several beer representatives ready to introduce them to local craft beer.

See the original story by Monica Salazar and additional photos on the Hillsboro NewsTimes.