Hillsboro Downtown Partnership is supporting Tualatin Valley Creates with volunteer recruitment for the La Strada dei Pastelli Chalk Art Festival!
---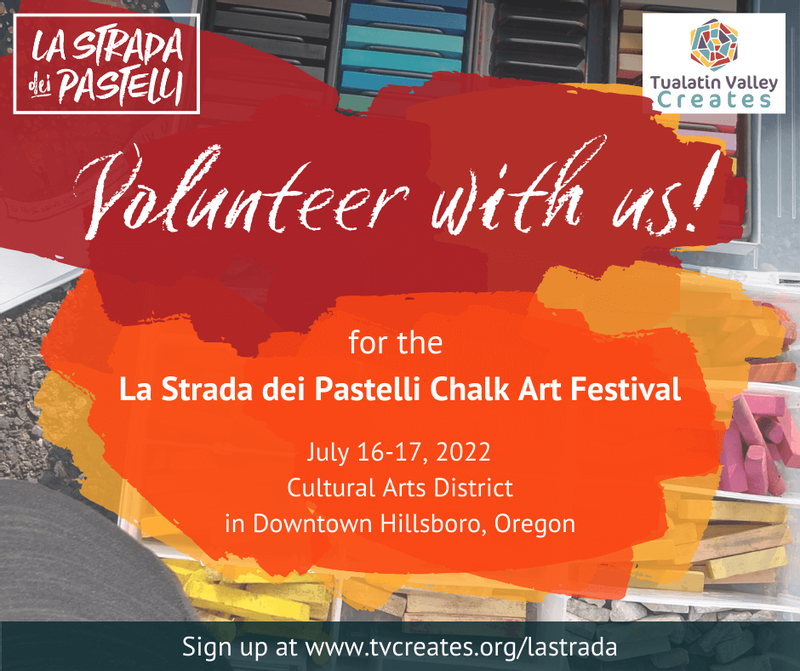 Do you want to support arts and culture in your community? Do you want to volunteer for a vibrant, colorful, music-filled festival in Downtown Hillsboro?
Tualatin Valley Creates brings you La Strada dei Pastelli Chalk Art Festival, a window into the creative process wherein festival goers can engage with nationally-recognized and emerging visual artists as they carefully manipulate bold, colorful pigments to produce huge, temporary drawings down the center of the streets. Simultaneous to the visual arts exhibitions, local performing artists fill the air with rhythm and sound from the festival's main stage. Local art vendors also line the streets offering unique items and inspirations to attendees. Children of all ages are encouraged to take part in hands-on activities being provided by local nonprofit organizations. The annual festival combines community engagement and art appreciation into one FREE fun-filled weekend!
From its creative core to its business partners, La Strada dei Pastelli's goal is to build visibility for Washington County's unique and diverse community assets.
Volunteers! We need you: Weekend long, day long or 4 hour shifts available. Example positions include supporting our artists, staffing the information booth, assisting with traffic controls, and more! 
Must be 14 or older and all abilities are welcome. Minors will be assigned in pairs so consider signing up with a friend!

The Downtown Hillsboro Partnership is assisting Tualatin Valley Creates in recruiting, training and supporting event volunteers. Sign up to volunteer here: https://docs.google.com/forms/d/e/1FAIpQLSdLayJQtNUEIMAYDZXiZLW63EEo4TwLdNOzDohb8feHuZvq0A/viewform

For more information about the festival please visit the following website:
https://tvcreates.org/lastrada/