You'll soon be able to "Throw away the weekend," on Main Street
---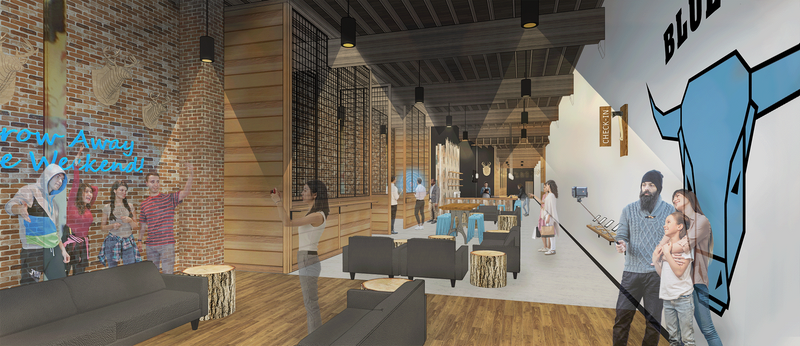 Downtown Hillsboro looks to welcome a brand-new entertainment venue onto Main Street. With another location in Oregon City, Blue Ox Axe Throwing now hopes to bring its unique style of bar and adventure to Downtown Hillsboro.
Blue Ox's Oregon City location is coming up on two years of business, having opened in October 2020 during the pandemic. More than 20,000 guests and plenty of bullseyes later, Lani Eversage shared with us why he chose Hillsboro to open a second location: "COVID showed us that we don't need to drive to Portland in order to have a night out — we can build and support local businesses in our own backyard. Anyone who visits Main Street during a Tuesday or Saturday market can see the bold and innovative people that make up this Hillsboro community, and I'm excited to add to its thriving culture."
Blue Ox is set to open in Downtown Hillsboro at 264 E Main Street in early 2023. This space has held a variety of restaurants over the years, the most recent being Clark's Bistro, but it hasn't had this big of an overhaul for decades. Layers of the past have been stripped away by the new building owners, creating the perfect rustic palette to match Lani's vision for the Hillsboro location.
It's going to be a great place to hang out, and that's what Lani is aiming for. "We look to cast a wide net to as many guests as we can: date nights, family and friends, corporate parties, and large celebrations and gatherings.
Blue Ox Hillsboro is hoping to collaborate with the vendors and restaurants all around us. We want our space to bring in business for everyone in the area. If we can bring in 400+ people per weekend, that's more boots on Main Street – and traffic through our neighbor's doors."
Rustic with a modern flair, unique and incredibly safe, Blue Ox looks to establish themselves as "Hillsboro's Living Room" – capturing the warm and cozy feels for a perfect night out. Blue Ox plans to host live music, themed activity nights, beer and wine tastings, and even karaoke. Keep an eye on the build-out of this space over the coming months.