Clean Water Services Supports Tidy Up Downtown for Earth Day
---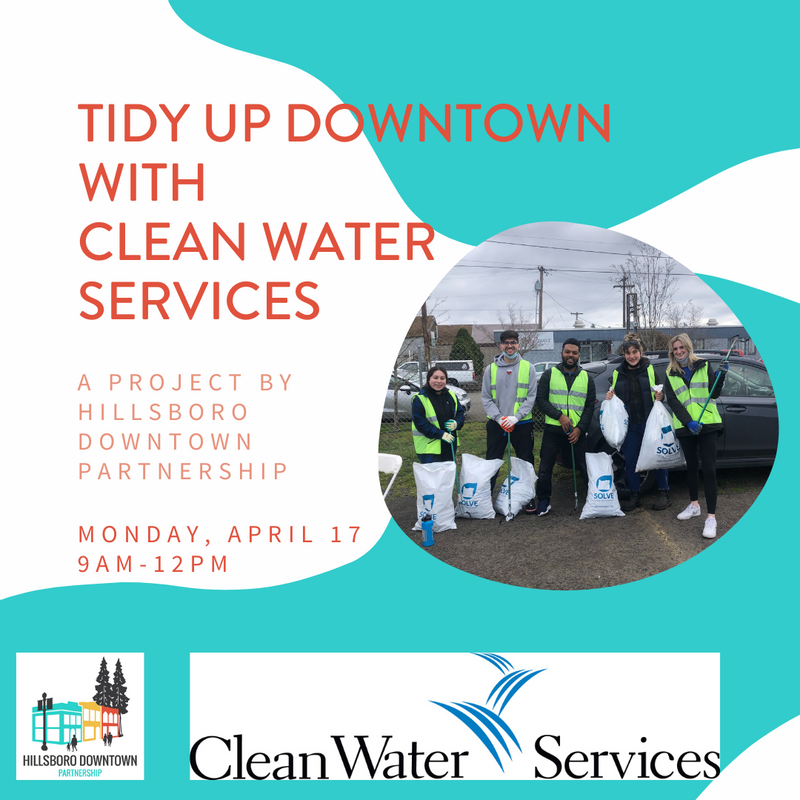 Rain to Drain to River
Did you know, storm drains typically flow directly to the Tualatin River? That means pollution on roads, sidewalks, and your own property can end up in the watershed. Help clean up your community to protect the One Water we all share. Spring activities like using fertilizer, pesticides, and washing your car can help or hurt our water.
Clean Water Services is a resource management entity that employs science and nature to clean storm and sewer water that returns to the Tualatin River to ensure the health and safety of the watershed. Their work serves to protect the river and its habitat and inhabitants as well as the 600,000 residents of Washington County who depend on the water that comes from the Tualatin River Watershed.
From Trash to Chemical Runoff, Salmon Care About Clean Water
Part of their mission at Clean Water Services is to educate the public about the implications of contaminated storm water reaching the rivers. If you have lived in the Pacific Northwest for any length of time, you have probably heard a lot about Salmon. Salmon are just one part of a vast and complicated ecosystem that serve as a reminder of the importance of clean water.
When household chemicals like herbicides, paint, fertilizer, copper flashing, and more encounter rain, they are washed away from your yard or home and are swept through the storm drains and directly into the Tualatin River. These chemicals can harm and disorient fish, and even lead to die offs which in turn, disrupts the food web and the delicate balance of a healthy ecosystem.
CWS hopes to raise awareness within our community and remind us that we can all help to add less of these chemicals to the water supply.
How You Can Help
Clean Water Services sees the value in our community's continued efforts to keep our neighborhood clean and safe. Twice every month, we meet with dozens of volunteers (some who return again and again) to clean litter and graffiti throughout the city under our project, Tidy Up Downtown.
Picking up litter is a small act that makes a huge impact on our shared environment, preventing trash and chemicals from entering the storm drains and eventually, the river itself.
In support of Tidy Up Downtown, Clean Water Services is joining us on April 17 to support our project and to provide some valuable education about how you can do more to protect our water. If you can't join the project, please stop by to say hi and learn more about all of the amazing things Clean Water Services is doing to protect our environment and our Washington County community!
The project will take place on April 17 from 9am-12pm at 494 E Main St in Downtown Hillsboro.