Show your Hillsboro pride and support our clean streets initiative with a banner message!
---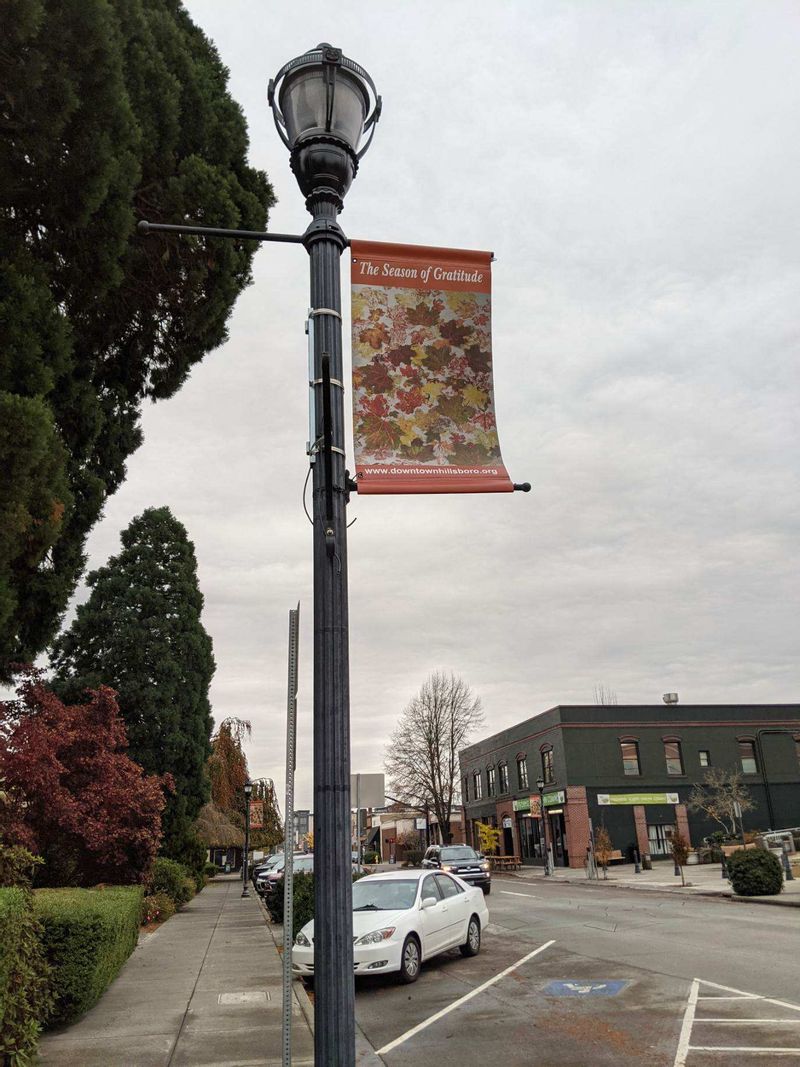 Hillsboro Downtown Partnership (HDP) staff and volunteers understand that a tidy neighborhood is an important asset to a welcoming and successful business district. This is why we host over 30 Tidy Up Downtown volunteer projects each year from SE 10th Avenue to SW 17th, and have a Beautification Team dedicated to keeping Downtown clean and safe throughout the year.
As a community-based organization (501c3), our funding comes from a variety of sources and on various schedules, so we can't guarantee we can help in every situation, but you can help us change that!
Litter is bad for business.
We have cleaned thousands of pounds of trash from the streets, alleys, sidewalks, and parking lots of Downtown Hillsboro and we truly believe that every bit counts, from candy wrappers to mattresses. Illegal trash dumps and abandoned camps can be a huge financial and mental burden on our Downtown small business owners, and we are here to help.
We understand that handling incidents involving property damage, whether accidental or criminal, is hard to plan for as a small business owner. So, HDP is continually working to access resources and provide assistance to help you get back to making money.

Where does HDP come in?
Because we are so passionate about a clean and safe Downtown, we approach the problem from multiple angles, using both staff and volunteer support to get the job done.
On the first Sunday and third Monday of every month, volunteers come together in Downtown Hillsboro to clean litter and graffiti throughout the neighborhood in an effort to keep Hillsboro clean and safe! Hillsboro Downtown Partnership does this project in partnership with SOLVE Oregon as the biggest and most consistent Hillsboro Solve partners. We provide volunteers with maps, safety vests, gloves, bags, and litter pickers and send them out into the community to clean everything from takeout containers and shopping carts to graffiti and tags.
A key part of our partnership with the City of Hillsboro is providing workforce development for individuals with barriers to work, including presently or previously unhoused individuals. As a part of this program, HDP assists our employees in accessing other needed services including housing, medical, and other assistance, either directly, or by creating connections with other community partners doing this work. We currently have one full time and one part time employee without housing. We have come to learn that houseless employees experience have needs that are very different from our other employees, including food, clothing, transportation, a mailing address, tax filings, financial counseling, and connection to other services.

How to support this work:
If you believe in this important work like we do and want to see these programs continue, we need your help! Purchasing a special banner message through this fundraiser will help us to repurchase supplies, employ more community members, and lead more projects that help us keep our city clean. We hope you see the value and donate to our Downtown Beautification Team!
This fall, we want to hear about why you are proud to be Downtown Hillsboro! We encourage you to dedicate a banner to a person, shop, restaurant, event, or organization in Hillsboro that you love. Share your message on a banner for just $50.
We are a 501(c)3 organization and all donations are tax-deductible. Our EIN is 47-2354839.